Who am I?
Hello, my name is Kara Waldemer. I am a full stack software engineer with a passion for JavaScript and writing front-ends to websites. I graduated from SLU in December of 2013 with a BS in Computer Science and I have been pushing myself to grow and try new things ever since.
Work
I am currently working at Ocelot Consulting as a Senior Software Engineer. I am a full stack developer with experience solving problems in a number of different business domains using a number of different technologies.
Family
My family is very important to me and a large portion of what I do is through the lens of making them proud and giving me the time to spend with them. In particular I would like to thank my wonderful wife, Jackie, for all of her love and support, even when I geek out and ramble endlessly about technology and programming.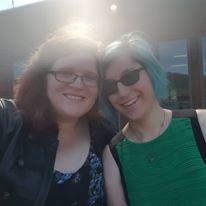 Hobbies
I enjoy spending my free time with Jackie as well as our dog and two cats. Whether that is hanging out at home or going out and doing something fun, I am happy spending time with them.
I am also an avid reader and have found very few books that I don't enjoy in some fashion or another. In particular I am a fan of Science Fiction and Fantasy (I know, shocking right!). My absolute favorite book series is The Wheel of Time by Robert Jordan. If you haven't heard of it or haven't taken the time to check it out, I highly recommend it. It is a long series but well worth a read.
Additionally, I have done a lot of work in the past with the local Saint Louis LGBT community. This is an area that is very near and dear to my heart and I do not hide that part of my life so in the future I might break out a new blog relating to that work.